Saturday July 20th, 2019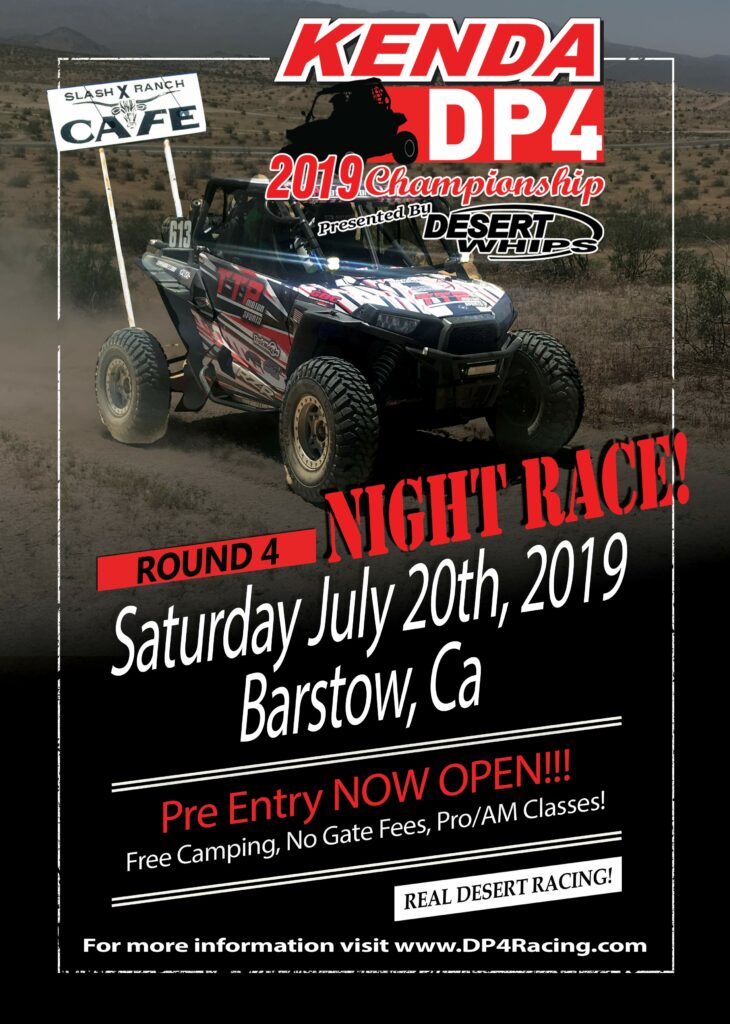 Round Four of the 2019 Kenda/DP4 Racing Championship moves East to Barstow, Ca and the Slash X Cafe where for the first time ever, DP4 Racing will host a night race! Racing action returns July 20th where some of the fastest desert racers will hit the dirt just before sundown.
REMEMBER, DP4 RACING is the ONLY PLACE where you have the chance to win a complete set of Kenda Tires for taking the win in an Amateur racing class! Will you join the racers here at round 4?
Pre-Entry for Round Four is now officially open! Our pre-entry is handled through MotoTally and can be accessed by clicking the buttons below. Please note that in order to pre-enter, you MUST be a DP4 series member first. In order to complete the two step signup process, start with the DP4 membership button below. *Note that membership is required for the driver of record ONLY, and co-drivers do NOT need to purchase a membership.

Once you have signed up for the series (note that it takes approximately 24 hours to process your membership) then you are free to pre-enter for round four! Please click the button below to pre-enter for Round Four!

If you have signed up for a membership online,  and pre-entered online, then just proceed to the "pre-entry line" at signups to complete your entry!
Note that all participants must have a DP4 Transponder. Transponders are $25 and are reusable at each round!
Signups/Tech Inspection 
Saturday ONLY 12pm – 5pm
Entry Fees

Pro – $350 (Includes $100 pro purse)
Amateur- $250
DP4 Membership- Pro – $50 / Amateur – $25
DP4 transponder (reusable) – $25
Riders Meeting
Riders meeting is mandatory for all drivers/co-drivers. Formula 1 Photo to be taken at the end of riders meeting.
6PM – Mandatory for all racers
Race Times
Sportsman – N/A – Due to Time Constraints there will be NO SPORTSMAN event at Round 3
(riders whom had intended to sign up for sportsman should check with event referee at DP4Racing@gmail.com)
Pro/Ami – 7PM
Event Coordinates
34°45'38" N -117°00'36" W
Pit Altitude- 2,851 ft
Course Details
Loop Length – approx 25 miles
Number of Laps for a finish –  6 (all classes)
Riders in ALL CLASSES will record a finish after completing at least 1 lap regardless of whether or not they take the checkered flag.
Starting Order to be a random drawing after the closing of signups.
Camping Fees- FREE
Gate Fees- FREE
No Camping in the Pits, Look for signage off of CA247. Search for Slash X Cafe for details!
For more information call 949-584-9395.