Round One GPS Files
Download the GPS Files for Round One by clicking the links below. Note that links will be valid as of 1/20/2023!

DP4 Racing returns this January 21st for the first round of the 2023 Method Race Wheels DP4 Racing Championship powered by Tensor Tires. The first round of the series brings riders back to the Spangler Hills OHV area just outside of Ridgecrest for the opening round of racing for the year. Round one will feature a 30-mile loop and 5 action packed laps of racing which takes which will give our racers a chance to break in their new cars and test out their 2023 upgrades!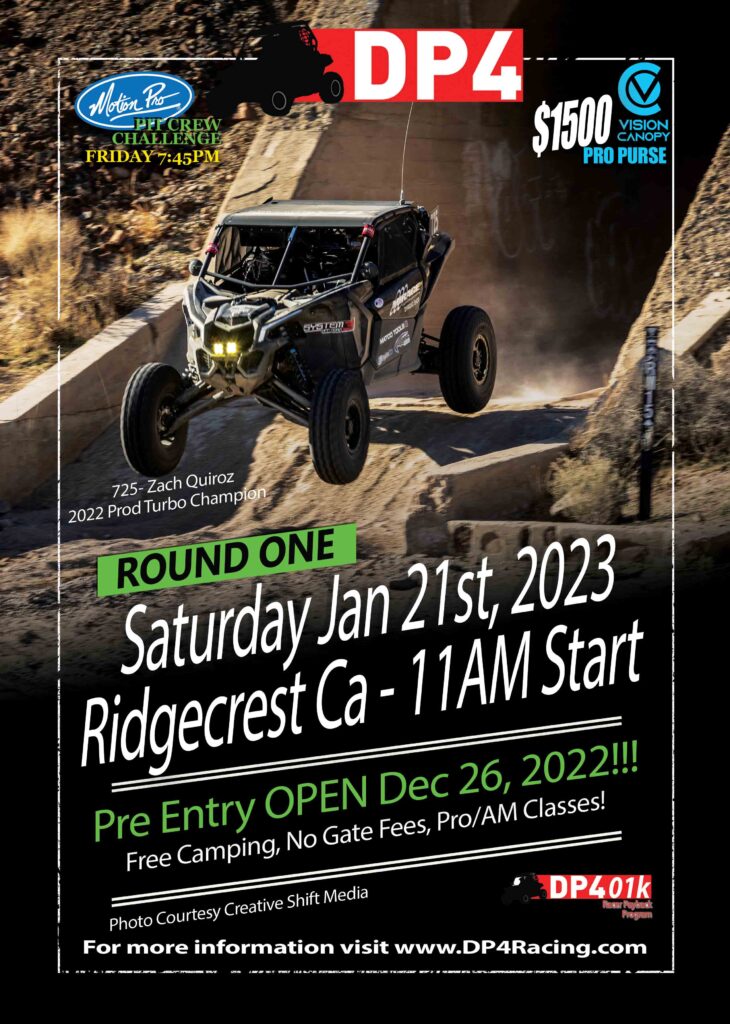 REMEMBER, DP4 RACING is the ONLY PLACE where you have the chance to win $1000 worth of Tensor Tires or Method Race Wheels for taking the win in any racing class at all of our 2023 events! Will you join the racers here at round 1?
Pre-Entry for Round 1 is officially open December 26th and all racers must be entered by 6pm on Friday January 20th ! Our pre-entry is handled through MotoTally and can be accessed by clicking the buttons below. Please note that in order to pre-enter, you MUST be a DP4 series member first. In order to complete the two step signup process, start with the DP4 membership button below.
Again…all 2023 racing events are PRE-ENTRY ONLY. You MUST SIGN UP ONLINE ahead of the event.


Once you have signed up for the series (note that it takes approximately 24 hours to process your membership) then you are free to pre-enter for round one! Please click the button below to pre-enter for Round one!


If you have signed up for a membership online, and pre-entered online, then just proceed to the "pre-entry line" at signups to complete your entry!
Note that all participants must have a DP4 Transponder. Transponders are $25 and are reusable at each round!
Signups/Tech Inspection
Friday 4-6pm
Saturday 7:00am-9:00am
Entry Fees
Pro – $525 (Includes $100 pro purse)
Amateur- $425
DP4 Membership- Pro – $50 / Amateur – $25/Co-Driver Membership- $25
(CO-Driver Membership Mandatory for all co-drivers)
DP4 transponder (reusable) – $25
All classes (Pro/Am) eligible for DP401k program!
Riders Meeting
Please view our riders meeting above prior to attending the race this weekend! It is for your own safety and that of the course workers, other racers, and spectators!
Driver Staging / National Anthem
10:20AM
Race Times
Pro/Ami – 11AM
Event Coordinates
35.484555 , -117.632130
"Searles Station"
Approximately 7.5 miles south of Ridgecrest on Searles Cutoff Rd just east of US395
Look for arrows off of US Highway 395 at Searless Cutoff Rd.
Those Side by Side Guys LIVE DRAW
Join us in Randsburg at the world famous bar, "The Joint" for our live draw Friday night at 8pm. Cant make it in person, don't worry we will be broadcasting live on Facebook and Instagram!
Course Details
Loop Length – approx. 30 miles
Number of Laps – 5 – Grand Prix finish, all riders record a finish regardless of number of laps completed
Pits to remain open after leader finishes their race for amount of time equal to the difference in the start of the first rider and the start of the last racer. Pits may be closed earlier at the race referees discretion when required for riders safety.
Riders in ALL CLASSES will record a finish after completing at least 1 lap regardless of whether or not they take the checkered flag.
Starting Order to be a random drawing after the closing of signups.
Camping Fees- FREE
Gate Fees- FREE
For more information call 949-584-9395.
Results from the Those Side by Side Guys Live Draw hosted at The Joint!
| | | | | | | |
| --- | --- | --- | --- | --- | --- | --- |
| Start Row | Number | Name | City | St | Class | Brand |
| 1 | 46 | Cole Fike | Fontana | CA | DP4 Pro | POL |
| 2 | 41 | James Walker | Barstow | CA | DP4 Pro | POL |
| 3 | 48 | Eric Perkett | Escondido | CA | DP4 Pro | CAM |
| 4 | 9 | jeremy marsh | RIDGECREST | CA | DP4 Pro | POL |
| 5 | 80 | Jessy Nelson | PASO ROBLES | CA | DP4 Pro | POL |
| 6 | 47 | Brian Mundell | Big Bear City | CA | DP4 Pro | CAM |
| 7 | 8 | Alex Berg | Lake Oswego | OR | DP4 Pro | POL |
| 8 | 52 | Shawn Stephy | RIDGECREST | CA | DP4 Pro | Pol |
| 9 | 58 | Jamie Campbell | Fallbrook | CA | DP4 Pro | HON |
| 10 | 2 | Jeff Taylor | Canyon Lake | CA | DP4 Pro | CAM |
| 11 | 45 | Carter Kawell | Crestline | CA | DP4 Pro | POL |
| 12 | 50 | Zach Quiroz | Barstow | CA | DP4 Pro | CAM |
| 13 | 3 | David Placencia | Hesperia | CA | DP4 Pro | POL |
| 14 | 19 | Ethan Groom | Temecula | CA | DP4 Pro | POL |
| 15 | 18 | Douglas Allan |   | Ca | DP4 Pro | POL |
| 16 | 88 | Dillon Sewell | Anza | Ca | DP4 Pro | HON |
| 17 | 22 | Erick Kozin |   |   | DP4 Pro | POL |
| 18 | 107 | Kurt Ashley | Gilroy | CA | DP4 Pro NA | POL |
| 19 | 105 | Zachary Kisman | Sparks | NV | DP4 Pro NA | KAW |
| 20 | 156 | Hyles Hersley | Ridgecrest | CA | DP4 Pro NA | KAW |
| 21 | 102 | Ricky Brabec | mohave valley | AZ | DP4 Pro NA | HON |
| 22 | 114 | Chanse Parsley | Goodyear | AZ | DP4 Pro NA | POL |
| 23 | 184 | Dave Pedder  |   |   | DP4 Pro NA | Hon |
| 24 | 203 | Jeff Goldsmith | Columbia | TN | Pro Unl | POL |
| 25 | 205 | Nicholas McPhee | Riverside | CA | Pro Unl | POL |
| 26 | 204 | Clayton Schulz | Buckeye | AZ | Pro Unl | POL |
| 27 | 355 | Soloman Kiefer | HESPERIA | CA | Prod Turbo | CAM |
| 28 | 310 | Andy Guzman | Rosamond | CA | Prod Turbo | POL |
| 29 | 350 | Travis Wasson | Huntington Beach | CA | Prod Turbo | CAM |
| 30 | 361 | Kahle Steinmetz | Escondido | CA | Prod Turbo | POL |
| 31 | 329 | Paul Fitzgrrald | Las Vegas | NV | Prod Turbo | CAM |
| 32 | 330 | Kevin Self | Ridgecrest | CA | Prod Turbo | POL |
| 33 | 306 | MARIO CABRALES | Upland | CA | Prod Turbo | CAM |
| 34 | 356 | Ron Lewis | Susanville | CA | Prod Turbo | CAM |
| 35 | 332 | don shapen | winnetka | CA | Prod Turbo | POL |
| 36 | 307 | Josh Gibbs | Earp | CA | Prod Turbo | POL |
| 37 | 369 | Steven Machado | Victorville | CA | Prod Turbo | CAM |
| 38 | 311 | Josh Tanner | Anaheim | CA | Prod Turbo | POL |
| 39 | 304 | Von Trunk | Cathedral city | CA | Prod Turbo | POL |
| 40 | 319 | Alissa Warner | Fresno | CA | Prod Turbo | Pol |
| 41 | 323 | Dereck Butterfield | Rialto | CA | Prod Turbo | CAM |
| 42 | 339 | Ben Protas | San Diego | CA | Prod Turbo | CAM |
| 43 | 418 | Tim Moore | Anaheim | CA | Prod 1000 | ART |
| 44 | 425 | John Minnock | Wrightwood | CA | Prod 1000 | POL |
| 45 | 420 | JOHN CONNOLLY | Tustin | Ca | Prod 1000 | KAW |
| 46 | 411 | GREGORY SEITZ | KINGMAN | AZ | Prod 1000 | ART |
| 47 | 445 | MITCHELL JENSON | Corona | CA | Prod 1000 | HON |
| 48 | 419 | Brody Wurster | Valley Center | CA | Prod 1000 | HON |
| 49 | 416 | Christian Terle |   |   | Prod 1000 | Hon |
| 50 | 426 | Mark May | Riverside | CA | Prod 1000 | ART |
| 51 | 402 | Zachary Michel | Phelan | CA | Prod 1000 | POL |
| 52 | 423 | Tony Bartell | RIDGECREST | CA | Prod 1000 | POL |
| 53 | 410 | Keith Thompson | RIDGECREST | CA | Prod 1000 |   |
| 54 | 518 | Trevor Griffin | Ridgecrest | CA | Stock 1000 | POL |
| 55 | 508 | Mathew Heckermann | Murrieta | CA | Stock 1000 | POL |
| 56 | 526 | Evan Shine | Ridgecrest | CA | Stock 1000 | POL |
| 57 | 547 | Dave Pedder Jr |   |   | Stock 1000 | Hon |