The final round of the year is coming!
Join us Saturday October 19th for the final round of the 2019 Kenda DP4 Racing Season! Our list of give-a-ways continues to grow! Win tires, dump cans, race gas, and more here at round 6 of the Kenda DP4 Racing Championship. For more info click here:  Round 6 info
Chris Blais wins again at Round 5!
Chris Blais and Robert Nuckles raced hard for four laps, but Blais had what it took to get up front come the finishline. Check out the recap video below! Results!
Join us for Round 5 in Johnson Valley, Ca!
Pre Entry is now open for the September 7th event, be sure to sign up here!
Robert Nuckles outshines 33 other races to take Round 4 Victory!!
Finishing the 180 mile race nearly 30 minutes ahead of 2nd place, Nuckles easily took the pro-class win and race overall at round 4 in Barstow! RESULTS!
Chris Blais wins round 3 amid record attendance!!
Chris Blais puts on a show finishing the 150 mile race in just over 3 hours 45 minutes Check out the full results here: RESULTS!
Round One is in the books!
Proving that it isn't all about money and equipment, the husband-wife team of Shawn and Tanya Bigney took the win in dramatic fashion besting the Production 1000 Turbo class vehicle of John Connolly and Danny Reider, and the Production 1000 class car of brothers Dylan and Brady Kelly.
With four different brands represented here at round one, spectators were treated to a show of some of the fastest SXS vehicles in the west. Be it the home-built Yamaha YXZ of the Brady Brothers, or the four-seater turned two-seater Polaris RZR of the Connelly/Reider team, all of the major SXS brands were represented here at round one. One of the cleanest (and newest) looking cars was that of the father/son team of Louis and Louis Castillo who raced their hot-off-the-showroom-floor Can Am Maveric X3 in their FIRST EVER off-road race and finished a respectable 4th overall, completing all four laps in just over 3 hours. Read More
Kenda Named Title Sponsor of the
2019 Kenda/DP4 Racing Championship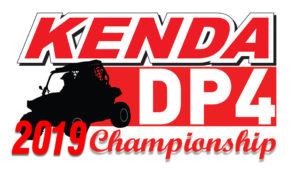 December 20, 2018
Plans have been completed for Kenda to step in as Title Sponsor for thew 2019 Kenda/DP4 Racing Championship, and with it the DP4 Racers become the winners, as over $8,000 worth of product will be given away over the course of 6 rounds this season.
"We are beyond thrilled to have Kenda on board as title sponsor. Their commitment to the off road industry is matched by non, and their willingness to support our new championship just shows how much faith they have in us!" -Ryan Sanders of DP4 Racing. "We are literally going to give away sets of tires at every round this year.  And i'm not just talking about a tire here or there, at EVERY ROUND Kenda is going to give away TWO COMPLETE SETS (4 tires per set) of tires to different amateur class winners!"
The Kenda program which kicks off at Round One on February 2nd in Ridgecrest, Ca will award new tires to the winners of certain selected amateur classes at the event. Continuing on for the remaining 5 events there after, Kenda will award an additional sets of tires to selected amateur classes at every round.