Due to the recent COVID-19 outbreak and the impact on the financial wellbeing of our racers, DP4 Racing will be postponing round 2 until a new date can be coordinated with the BLM. Look to our website for more info in the coming days. 
DP4 Racing returns this March 28 for the Second Round of the 2020 Kenda/DP4 Racing Championship. Round number two takes riders back to Johnson Valley and a new staging location – Soggy Dry Lake. Round two will feature a 28-mile loop and 5 action packed laps of racing which takes riders into areas many might recognize from the King of the Hammers events! Don't worry about difficulty, however, as our trails will be the same as always and will easily be make able by all DP4 Racers.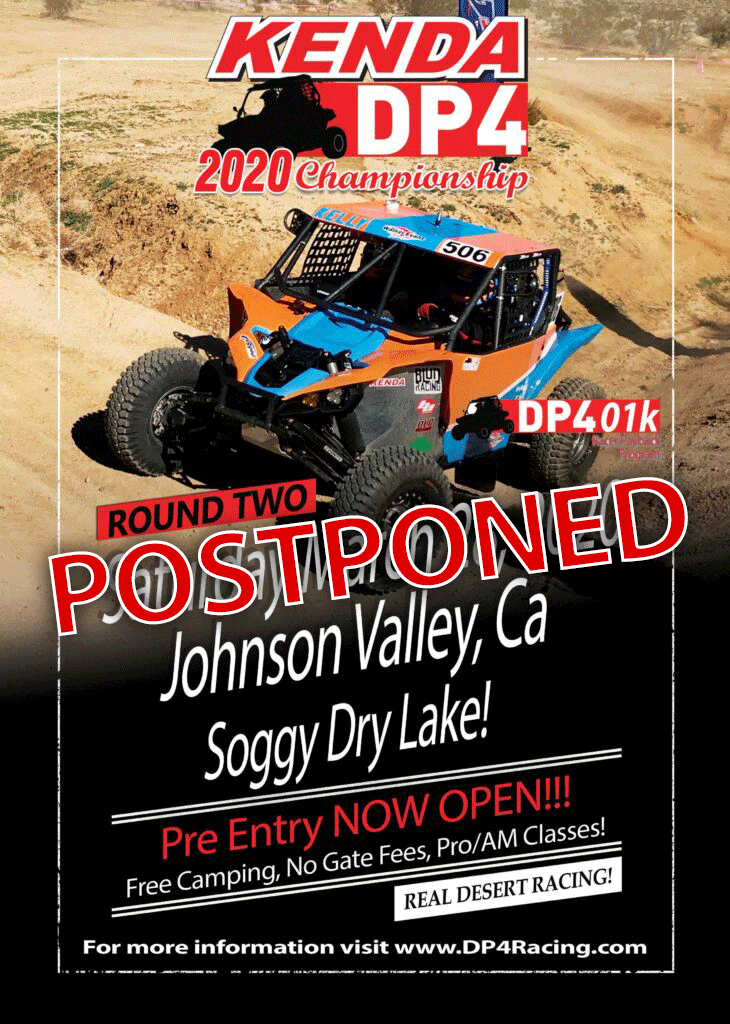 REMEMBER, DP4 RACING is the ONLY PLACE where you have the chance to win a complete set of Kenda Tires for taking the win in an Amateur racing class! Will you join the racers here at round 2?
Pre-Entry for Round 2 is now officially open! Our pre-entry is handled through MotoTally and can be accessed by clicking the buttons below. Please note that in order to pre-enter, you MUST be a DP4 series member first. In order to complete the two step signup process, start with the DP4 membership button below.


Once you have signed up for the series (note that it takes approximately 24 hours to process your membership) then you are free to pre-enter for round two! Please click the button below to pre-enter for Round two!


If you have signed up for a membership online, and pre-entered online, then just proceed to the "pre-entry line" at signups to complete your entry!
Note that all participants must have a DP4 Transponder. Transponders are $25 and are reusable at each round!
Signups/Tech Inspection
Friday 4-6pm
Saturday 6:30-8:30am
Entry Fees
Pro – $425 (Includes $100 pro purse)
Pro purse to be paid Per Pro Class based off of entries
Amateur- $325
DP4 Membership- Pro – $50 / Amateur – $25
DP4 transponder (reusable) – $25
All classes (Pro/Am) eligible for DP401k program!
Riders Meeting
Riders meeting is mandatory for all drivers/co-drivers.
9:30AM – Mandatory for all racers
Driver Staging / National Anthem
10:40AM
Formula 1 photo to be taken at driver staging
Race Times
Pro/Ami – 11AM
Event Coordinates
 34°27'0.16″N , 116°40'45.32″W
"Soggy Dry Lake"
Approximately 17 miles East of Lucerne Valley on HWY 247
From Lucerne Valley, take Hwy 247 east approx 13 miles and turn Left (North) at Bessemer Mine Road.
Please allow for at least 60-minutes drive time from Lucerne Valley when towing a trailer.  Bessemer Mine Road is rocky and slow goings.
For a smoother route, look to the side trails on the left side of the road once the rocky section starts.
Course Details
Loop Length – approx 28 miles
Number of Laps – 5 – Grand Prix finish, all riders record a finish regardless of number of laps completed
Riders in ALL CLASSES will record a finish after completing at least 1 lap regardless of whether or not they take the checkered flag.
Starting Order to be a random drawing after the closing of signups.
Camping Fees- FREE
Gate Fees- FREE
Look for signage off of US HWY 247 East of Lucerne Valley.
For more information call 949-584-9395.